Help us raise money while promoting reading skills and education. View the details!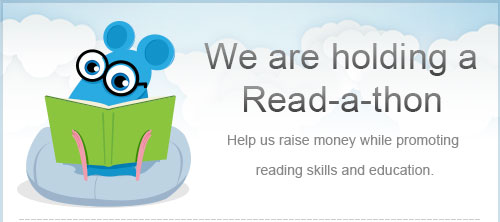 We will be starting on:


2020-01-26
ANGELS READ & GIVE Read-A-Thon is HERE!
January 26th – February 7th
Registration Starts – Friday, January 24th
Read-a-Thon Goal – $20,000
OUR ANNUAL SCHOOL FUNDRAISING GOAL is to raise $100,000 from our 3 Key Fundraisers in the 2019-20 school year!
We are raising funds for the following projects!
Air Conditioning FINAL Phase
Mini STREAM LABS throughout the building.
Next Generation Education & Learning Programs
Fine Arts Studio
Sensory Resource Room
Tuition Assistance
Principal Programs
The list above outlines the projects we hope to accomplish this year to strengthen our school and enrich your child(ren's) learning and experience. Angels Read & Give also funds the PTU student life programming.
ALL Read-A-Thon information will be provided to your student(s) on FRIDAY, JANUARY 24th.
We encourage every student to participate in our Read-A-Thon to help support our school. At school daily, students will read 10-15 minutes during morning time, library time or free time to achieve their daily minutes. Please encourage your students to read at home every night, too!  Make it a class activity by having class time and group reading by bringing out the books.
BE CREATIVE with your reading time!
Student SIGN UP!
It is easy to sign up a student.   Go to the website: www.read-a-thon.com.
Log in under "Readers" and sign up. Enter the student's personal code which the student will receive on Friday, January 24th. You do not need to use the social media tools provided but it is HIGHLY encouraged. You can email family or friends the link privately if you prefer. We also will take cash or check (Checks Payable to Saint Ambrose PTU) but we strongly encourage using the website.
EACH STUDENT'S GOAL is to raise $60!
WHAT IS IN IT FOR STUDENTS and TEACHERS?  PRIZES!
Read-A-Thon KICK OFF CHALLENGE – Any student that gets registered and receives a donation by Monday, January 27th will receive a Spirit Dress Down Pass.
Other Incentives for students will be provided on Friday, January 24th on their informational sheets!
Top TWO students who raise the most money school-wide will each win a Kindle Fire.
Top earners of each grade will earn a gift card TBD.
The top earning grade who raises the most money will receive an Ice Cream Sundae party.
The top earning class (K-5) who reads the most minutes will earn a Dress Down Day.
The top earning class (6-8) who reads the most minutes will earn a Dress Down Day.
We will be having an ALL School Reading Minute Challenge and an HSP Challenge – STAY TUNED for the incentives on this!
Grades who achieve their GOAL. Teachers will RECEIVE a catered lunch.
TOP earning TEACHER will receive a PAID DAY OFF!
TOP earning GRADE will receive a NO HOMEWORK PASS!
The Read-a-thon encourages reading for all ages. Finally a way to raise money for our school without selling
something we don't need! Let's sponsor our children so they continue to read above and beyond their expectations!!